October marks Registered Veterinary Technician (RVT) month across Canada — an opportunity to celebrate and recognize the invaluable contributions of RVTs everywhere. These highly skilled professionals play a pivotal role in the overall health and well-being of animals. They provide essential support to veterinarians, administer medications, perform medical procedures, and offer comfort and care to both pets and their owners. RVTs are not only the backbone of veterinary clinics and hospitals, but also champions of animal welfare, including at Veterinarians Without Borders North America/Vétérinaires Sans Frontières Amérique du Nord (VWB/VSF). This month allows us to acknowledge their dedication, hard work, and the critical role they play in ensuring that our furry, feathered, and scaly companions receive the best possible care. 
In honour of RVT month, we're introducing Geneviève Douyon, VWB/VSF's Northern Canada Program Clinic Officer, who is also a registered RVT.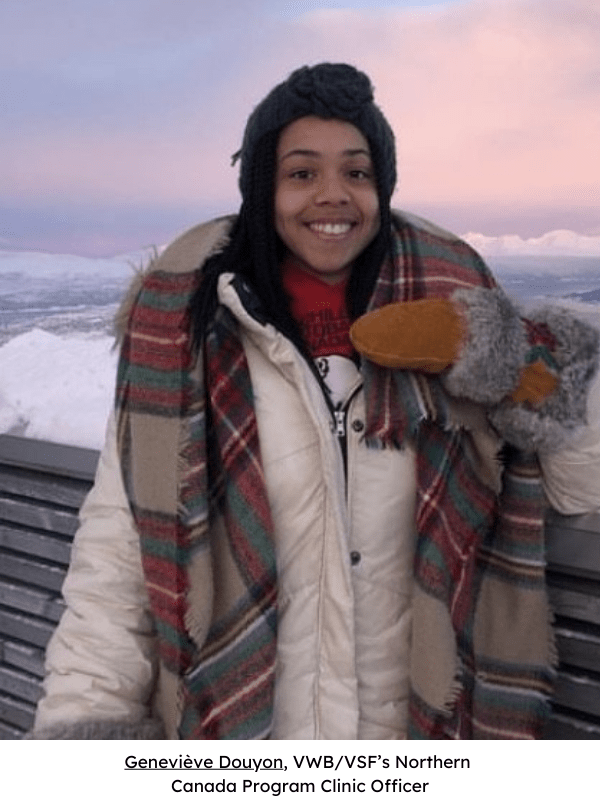 Q: What motivated you to become a Registered Veterinary Technician? 

A: My parents are both healthcare professionals, so I've always had a fascination with anything regarding health and sciences. You combine this with a love of animals, and you get me curious about a program that trains you to be a RVT! It was actually my father who stumbled upon the program that was being offered at Vanier College. I read about it and just decided to apply. It was a nice way for me to use my passion for medicine and animals in a more concrete way than in a more traditional pure and applied sciences program.  
Q: What inspired you to work in remote areas like Nunavut and the Northwest Territories?

A: I grew up in the Cree reservation of Chisasibi in Northen Quebec where my parents were working. Although I was still quite young when we left, I remember the challenges of living in a remote community. One of these was the absence of veterinary care. After I graduated from vet tech school, I became involved with an organization called "Chiots Nordiques", which does similar clinics to VWB/VSF but more specifically in Quebec's remote Northern communities. I found that it really gave me a sense of purpose and gratification that I didn't necessarily find in other more traditional veterinary settings. So, when the clinic officer position opened at VWB/VSF, I jumped at the opportunity and here I am working with a fantastic team!  
Q: Can you describe some of the unique challenges you face providing veterinary care to animals in these northern regions?
A: There is a shortage of veterinary professionals, (both veterinarians and RVTs), even in metropolitan areas. The veterinary field has been in crisis mode for a while now with the highest rate of burnout, depression, and unfortunately suicide amongst all professions. COVID has made a situation that was already very fragile, so much worse. If larger metropolitan areas are struggling, you can imagine how it is in remote communities that have no veterinary professionals at all. This veterinary shortage is "the norm" for the North. For the Northwest Territories, there are four veterinarians and all of them live and practice in Yellowknife. For Nunavut, there are none. On top of that, many Northern communities have no road access, which means you need to fly out with your sick animal to get veterinary care. In the event where a community is able to partner with a veterinary team to bring a clinic to the community, often the veterinarians are only able to provide basic and straightforward care, and it is only for a handful of days out of the year. This is why building community capacity and finding those place-based solutions are so key.
Q: What specific skills or qualifications are important for an RVT working in remote northern locations, where access to resources and infrastructure may be limited?
A: In many of these remote communities, we are exposed to challenges that are not necessarily directly related to the animals. As most of us know, especially since the Truth and Reconciliation Commission, the history of this country has left many scars and wounds that have crossed many generations, (and possibly will continue to do so). This trauma, combined with a lack of what we (city dwellers) consider basic resources, like running water, food, and electricity, can make it very difficult for someone who has no experience with this sort of setting. So, an open mind and being culturally aware and sensitive, being prepared and ready to work in less-than-ideal conditions, are, to me, important (even non-negotiable!) qualifications for a RVT (or veterinarian) to work in these remote locations. It is also important to note that these clinics are the community's only chance for veterinarians for the year, so we don't want to turn people away. This makes for potentially very long and unpredictable days.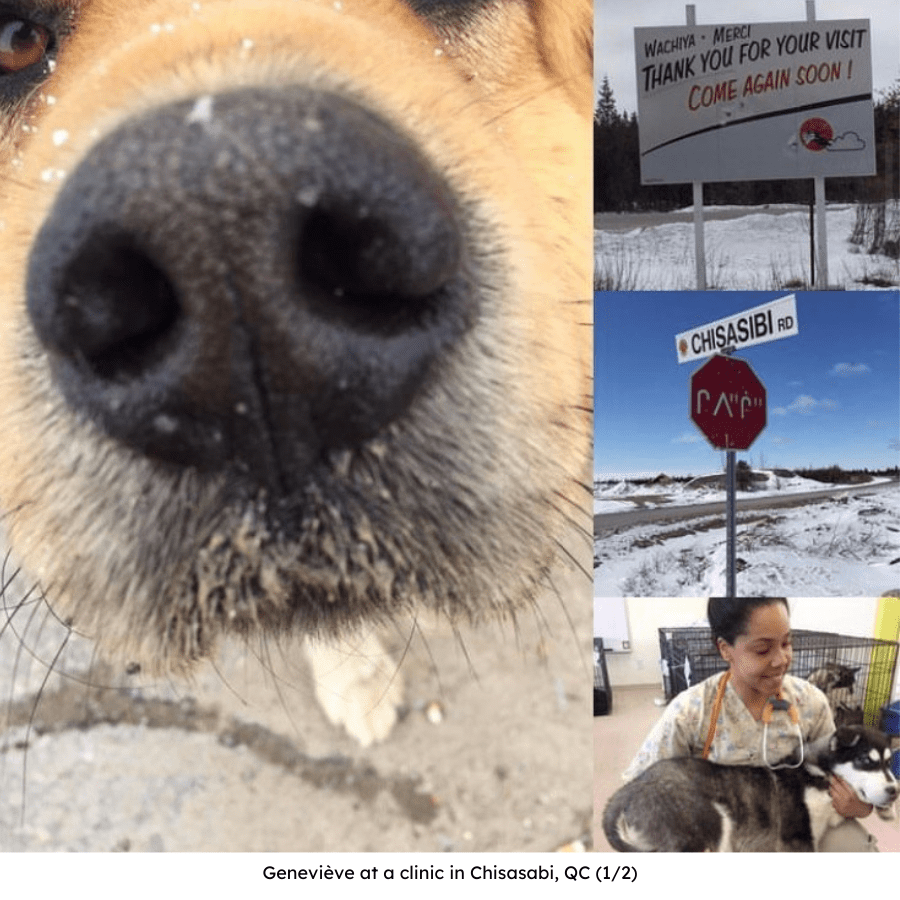 Q: In what ways do you collaborate with local communities and indigenous groups to promote animal health and welfare in the North?
A: Definitely through knowledge-sharing and consent. We do not impose anything; we don't even impose ourselves. We always wait for the communities to contact us first and identify the needs in their community. We are very transparent in the process and always make sure they understand our mission and the steps we will take, as well as ensure that they understand the treatment their animals are receiving. And more importantly, we try to leave something very important behind, knowledge! We don't simply show up and administer vaccines and spay/neuter the animals, (although many would say it is already a lot of work, and I agree), but we ensure that anyone who wants to learn about animal health can do so to build community capacity. We make them part of the process and VWB/VSF has many initiatives like scholarships and bursaries to try to encourage residents of these communities to apply to programs related to animal health like veterinary school, tech school etc... 
There is this saying that although cliché, is so true! " Give a man a fish and you feed him for a day; teach a man to fish and you feed him for a lifetime." Because, at the end of the day, there is no one who understands what the needs of a community are better than its own residents.  I firmly believe that all they need, (in the context of animal health care) is the animal health and veterinary knowledge and the rest will follow.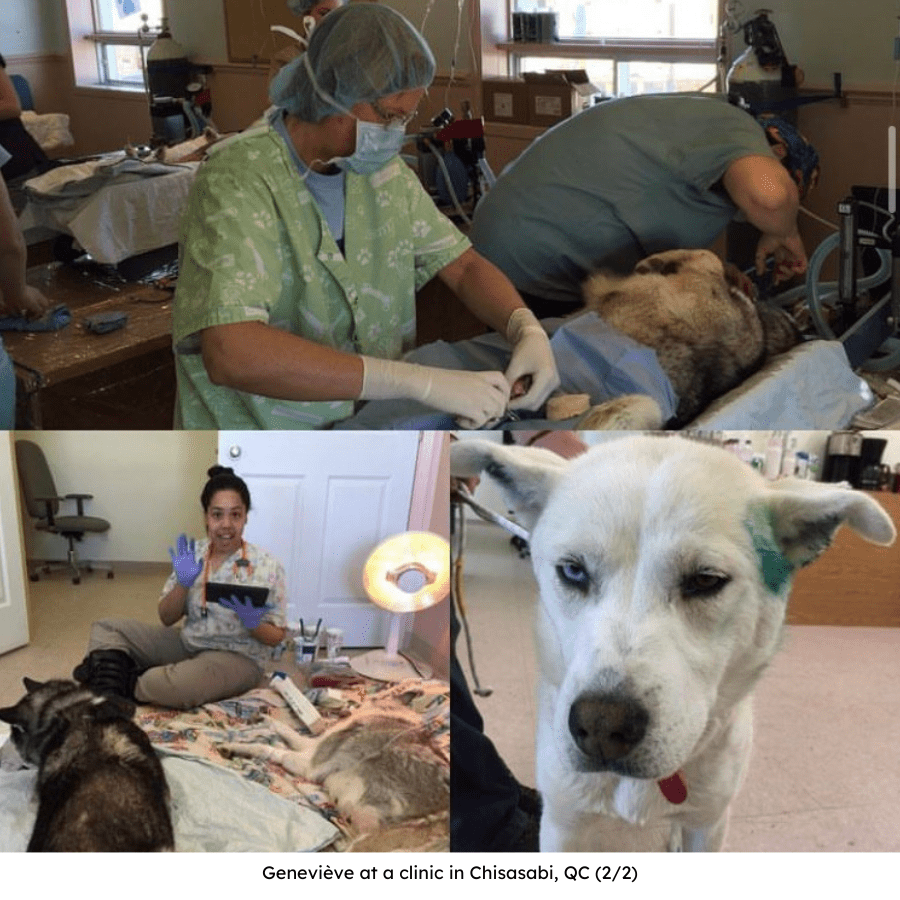 Q: What do you see as the most pressing animal health issues in these regions, and what initiatives or strategies are you involved in to address them?
A: I think it is a question with different answers. Many of these communities face similar challenges, yes, but I think the most pressing animal health issue will change depending on which communities we talk about. Some have an overpopulation problem, some have issues that are more directly related to public health, more specifically regarding rabies, and there is a whole list. But no matter what the main issue is, I believe education and knowledge sharing are primordial steps. 
Q: Do you have a memorable experience from your time as a RVT (anywhere in Canada)?
A: Too many for me to list them all but I will go for one where I worked as a consultant RVT for Humane Society International and the Montreal SPCA during a mission where we were the caregivers at a roadside zoo while the owner was being prosecuted for cruelty and negligence. A memorable experience working with wonderful people during the few months we were there. 
Interested in learning more about our work across Canada's North? Check out our Northern Animal Health Initiative.