YELLOWKNIFE, NT, August 21, 2023 – Today an emergency rescue flight operated by U.S.-based nonprofit Wings of Rescue (WOR) is underway to transport owned pets from wildfire-threatened Canadian cities Yellowknife and Hay River to safety and return to their families in Calgary and Vancouver where many area evacuees have been relocated as part of the massive transportation effort. The pets, which have been temporarily cared for by Canadian-based Veterinarians Without Borders (VWB) were, for various reasons, unable to travel with their owners, many of whom ended up leaving Yellowknife on crowded military transport planes or under circumstances unsuitable for transporting pets.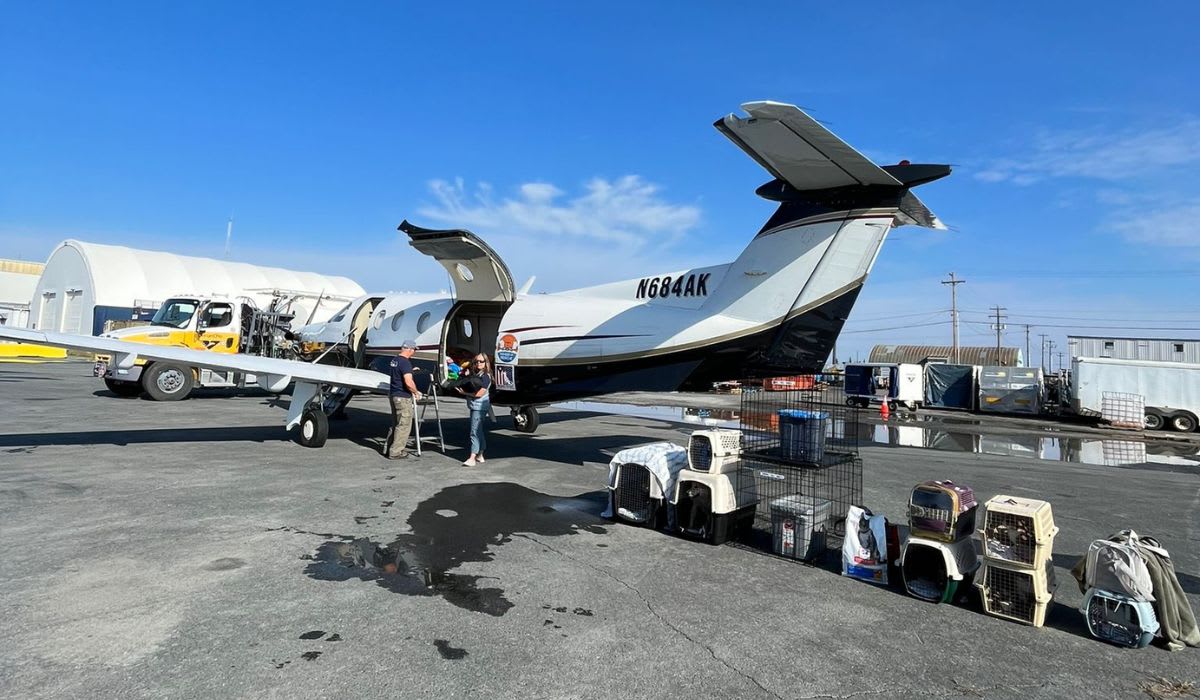 The flight today is made possible in part by a grant from Tito's Handmade Vodka and the company's Vodka for Dog People Charity.

On arrival in Calgary and Vancouver, the dogs, cats, rabbits and snakes will be either met directly by their owners or by representative of Veterinarians Without Borders who will care for them unUl they can otherwise be reunited with their families.

"Being separated from your beloved pets during stressful conditions such as these wildfires is a nightmare for all pet owners," said Ric Browde, CEO of Wings of Rescue. "We are thrilled to be partnering with Veterinarians Without Borders to not only transport these pets out of harm's way but back into the arms of their loving families."

Wings of Rescue, which was founded in the United States in 2012, has transported over 68,000 pets to safety from disaster zones, overcrowded shelters and other challenging conditions by flying rescue missions throughout North America. Using fully pressurized and temperature- controlled aircraft, WOR works with animal shelters and rescue groups who handle outgoing and incoming logistics and assure that all pets are fully vaccinated and cleared for both international and domestic transport.

Today's Wings of Rescue flight will be piloted by husband and wife volunteers Kale and Anji Garcia, experienced pilots who have tackled many difficult missions for Wings of Rescue. The Garcias will be flying today in a Swiss Pilatus PC-12 single-engine aircraft which can transport as many as 100 pets, depending on size.

According to Dr. Michelle Tuma, the Northern Canada Veterinary Specialist for Veterinarians Without Borders and a resident of Yellowknife, "over 65% of our population has evacuated due to wildfires. In Yellowknife we have about a population of 22,000 and 19,000 people have been confirmed evacuated and the same with Hay River where there has also been a large number of people evacuated from that town as well. So, we are super excited to be able to send some of these pets down South with Wings of Rescue to be reunited with their owners."
For further information and ways to support this vital effort, please visit vetswithoutborders.ca or contact:  

Media contact 
Laura Eley 
Communications Officer 
E: laura@vetswithoutborders.ca   
C: +1 343-633-0272, x 114 

About Veterinarians Without Borders/Vétérinaires Sans Frontières 

Using a One Health approach, Veterinarians Without Borders (VWB) works for, and with, communities in need to foster the health of animals, people and the environments that sustain us. VWB works in Africa and Asia to improve the living conditions of the most disadvantaged rural populations through veterinary and agricultural services, sustainable animal production, training, value chain development and sustainable natural resource management. Additionally, we support remote Northern Canadian communities to improve animal health through temporary spay and neuter clinics, reduce the spread of rabies, and work to create the conditions for long-term, community-led sustainable animal health services. VWB/VSF also responds to crises, worldwide, and is currently providing emergency support in Ukraine, Pakistan, South Sudan, and Turkey to address the growing needs of animals and communities. 
Learn more at www.vetswithoutborders.ca  

-30-