This blog was contributed by the VWB/VSF volunteer, Nafhtari Wanjiku.
Women's social and economic empowerment is critical for promoting gender equality in communities, and is a prerequisite for long-term development. Although women's rights are critical to development, they are frequently ignored or denied. This has resulted in a poor economic situation for the majority of rural dairy women farmers. Women dairy farmers lack access to critical resources, such as money to invest in their farms, the ability to make major decisions about their dairy farming operations, access to adequate information, and advisory services, among other things. To address this issue, Veterinarians Without Borders/Vétérinaires Sans Frontières Canada (VWB/VSF) has collaborated with Mukurwe-ini Wakulima Dairy Limited in Kenya on a capacity strengthening program that raises awareness about women's equality, while also improving their skills and knowledge in various areas of dairy production. One intervention to achieve this outcome was selecting 16 dairy farmers and taking them through a series of training sessions on various One Health topics. These farmers, now known as community one health champions (COHC), then helped to expedite the process of reaching out to as many women farmers as possible with the same One Health message.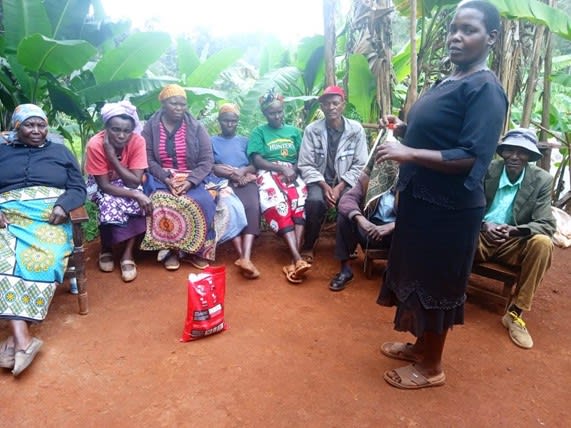 Emily Nyambura (standing), a community one health champion poses for a group photo after facilitating a training session on dry cow management at Kianyaga in Mukurwe-ini

Emily Nyambura, a 43-year-old married farmer, was one of those selected to participate in the COHC initiative. She owns a small plot of land where she grows fodder for her one cow. From the beginning, Emily knew she needed to make changes to her farm. After attending a number of dairy production trainings, including cow comfort and health and silage making, she was able to improve the sleeping section of her cowshed by making more space for lunging and adding dry leaves for bedding. She was later able to make maize silage for the first time.

During one of the visits to her farm, Emily expressed surprise that her cow had been drinking its own urine for a while. "I now understand why my cow drinks its own urine. When I asked other farmers about how to make sure the cow does not do it again, I got sorts of all answers. However, the animal nutritionist told me that, while I was providing the correct type of mineral supplement, the quantity was not sufficient. After adjusting this, the cow's behaviour stopped."

These minor achievements were among the factors that gave her confidence to form Kianyaga Dairy Farmers Group and begin training others in the areas in which she felt most confident. These areas included calf rearing, mastitis prevention, and feeding dry cows.

The main topics that COHCs were trained in included financial planning, savings, and budgeting. This excited Emily, and as a result, she introduced her group to table banking and savings. When they started, she volunteered to manage the group's account book, collecting the money and banking the contributions. Although the group would meet once a month for the table banking and training on select dairy topics, Emily quickly realized that managing the group's contributions activities was taking up too much of her time.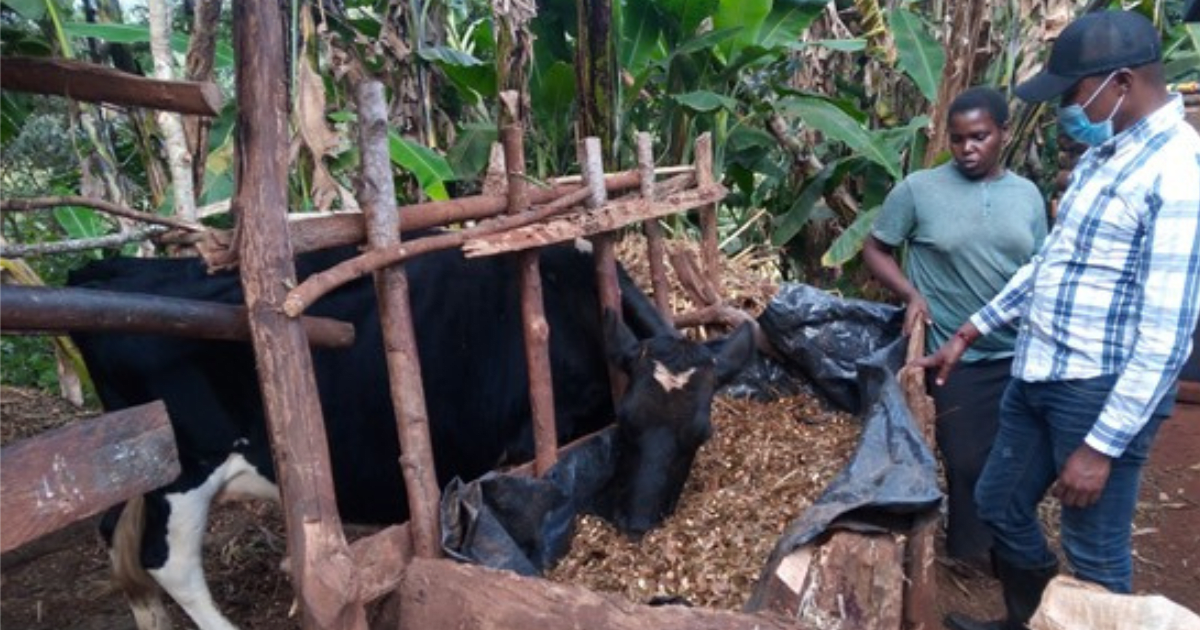 Emily Nyambura (left), a community one health champion, discusses the quality of the maize silage in the feeding trough with Nafhtari Wanjiku, an animal nutritionist volunteer (right).

"I had to request that they begin paying me KSh20 per person for my services. Some group members were not pleased, but after discussing it with them and demonstrating that I was also spending money to call them and that the group would assist each of us in meeting our savings goals, they agreed. I make KSh200 - KSh300 at each meeting with this group. For an hour, it's not bad," said Emily.

Emily has formed a second group through which she charges KSh10 per member. This is a relatively larger group and the majority of group members are women. She is convinced that if farmers can improve their farms and sell at least 10 kgs of milk per day, they will not need to look for casual work in neighbouring farms. Emily says, "I've realized that any farmer who sells a lot of milk is not having trouble making the monthly contribution. They are also motivated and have a lot of questions." She adds, "I also want to keep at least two lactating cows in order to become a better role model in my community"

Emily intends to support many groups this way and hopes this will be a significant source of her income. She says that over time, she has become better at talking to other farmers and has learned ways of resolving disputes in the groups. "We have strict rules, such as keeping time and making a mandatory contribution; failing to do so results in a fine," she explains.

Motivated farmers, like Emily, are making work a lot easy for the Wakulima dairy extension officers. They're assisting in reaching many more farmers in areas that previously seemed inaccessible. They're also assisting in arranging farmers' meetings and visits for the extension officers, and also choosing topics that are relevant to the groups as well as connecting farmers with veterinary personnel.