This article was written by Dr. William de Glanville, Animal Health and Zoonotic Disease Technical Advisor at Veterinarians Without Borders/Vétérinaires Sans Frontières (VWB/VSF).
In many low- and middle-income countries, a lack of regulations surrounding the sale of veterinary drugs poses a significant challenge. Livestock keepers in these countries often purchase antibiotics and other pharmaceuticals without prescription or professional guidance. This situation is prevalent in remote and rural areas in the Global South where access to veterinary services is often very limited.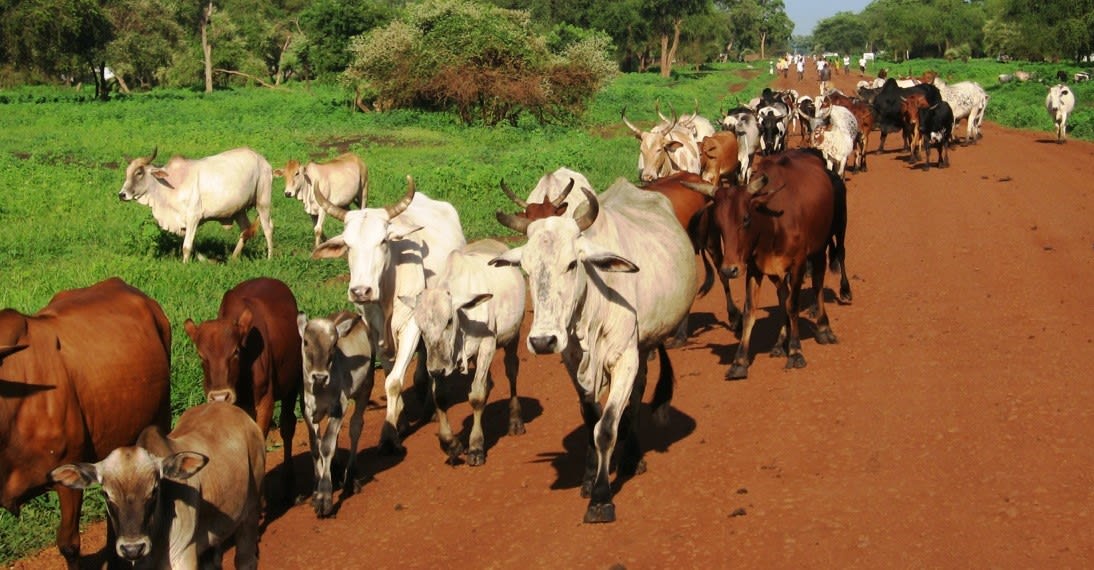 This is a complex issue. On the one hand, it allows livestock keepers in underserved regions to obtain medicines which can be lifesaving for their animals. On the other, unregulated access to veterinary drugs, including antibiotics, increases the risk of their inappropriate use. In countries across Africa and Asia with weak controls on drug sales, livestock keepers working without appropriate supervision frequently administer incorrect dosages, inappropriately short treatment durations, or incorrect treatments for their animals' ailments. These practices can contribute to the development of antimicrobial resistance (AMR). This occurs when disease-causing microbes, such as bacteria, become resistant to the drugs used to combat them. It can mean diseases that were once treatable can no longer be treated.
The emergence of AMR to veterinary drugs is a global health crisis that threatens animal welfare, livestock productivity, and public health. It is a problem that is already occurring. Livestock keepers often tell us that the drugs they used to use to treat common problems in their animals no longer work, or that they are using more of the same drug to see an effect. AMR is also a major issue in human health. In some cases, the misuse of antimicrobials in livestock has been linked to the emergence of bacteria with resistance to drugs crucial for human medicine. Recent research shows that infections caused by antibiotic-resistant bacteria are now among the leading causes of death globally, killing at least as many people as major diseases such as malaria.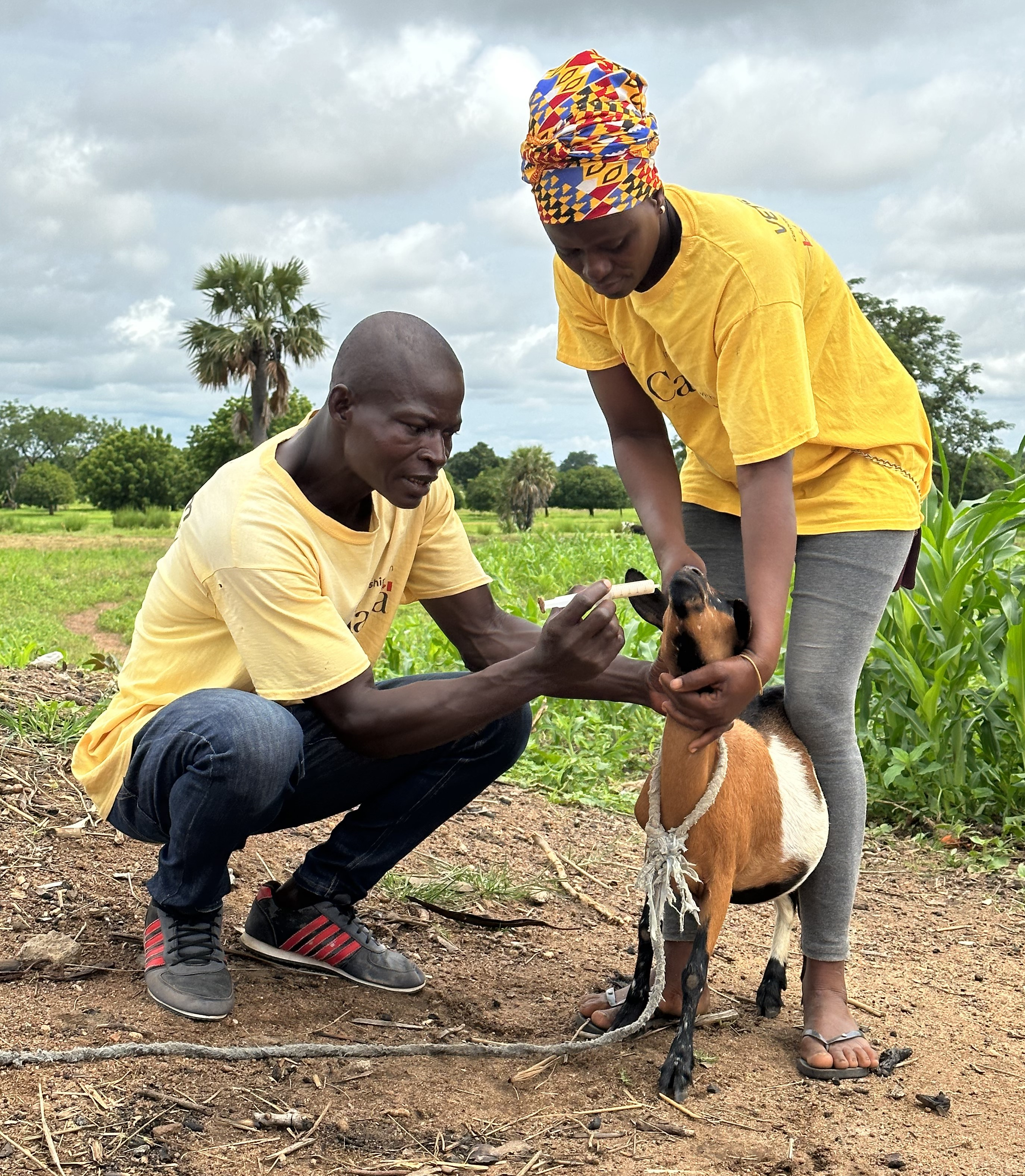 Veterinarians Without Borders North America/Vétérinaires Sans Frontières Amérique du Nord (VWB/VSF) is actively working to mitigate the risks associated with AMR. Our primary focus is on training Community Animal Health Workers (CAHWs) in communities across Africa and Asia, where formal animal health services are scarce. These CAHWs are local livestock keepers selected by their communities and trained in basic veterinary treatments. They can serve as a bridge between their communities and essential animal health care.
Depending on the prevalent animal health issues in their communities, we empower CAHWs to source and provide veterinary drugs along with guidance on proper use. Working in collaboration with government veterinary services, we train CAHWs to diagnose common livestock diseases and administer treatments, in some cases including antibiotics, at the appropriate dosage and duration.
Although all livestock keepers should have access to affordable animal health care from trained professionals, the reality is that such services are far from universally available. Training CAHWs can go some of the way in filling this gap and has the potential to substantially improve the utilization of veterinary drugs. For example, simple interventions, such as teaching CAHWs and livestock keepers to estimate the weight of their animals accurately can have a profound impact on proper dosing of antimicrobials. These essential skills are often missing, especially in communities where animals are not routinely sold based on weight.
Our CAHW training aligns with the One Health concept and includes recommendations on how to avoid the contamination of the environment and milk, meat and eggs with antimicrobials. We emphasise to trainees who often have limited formal education that microbes are alive, and drug resistant microbes can move through the environment or from animal to animal and from animals to people. This can help to highlight that mis-using antimicrobials can lead to problems with AMR that can go far beyond an individual animal, herd, or community, and that preventing AMR is everyone's responsibility.
To reduce veterinary drug use, we advocate for evidence-based approaches that promote strategic, targeted treatment over mass treatment to prevent and control livestock diseases. For instance, our CAHW training now incorporates modern worm control methods based on targeted treatment for animals that meet specific clinical criteria indicating a heavy worm burden. Traditional treatments, such as local herbal remedies, can be used for animals that don't meet these criteria. Such practices respect local ethnoveterinary knowledge while ensuring the most effective modern treatment for sick animals, reducing costs, environmental impact, and the risk of drug resistance developing.
Our CAHW training also emphasizes disease prevention to reduce the need for antimicrobials. We educate CAHWs and livestock keepers in animal husbandry, breeding, and feeding to keep their animals healthy and well-fed, improving their resistance to infection. We also stress the importance of managing sick animals, such as isolation, to minimize disease transmission within and between herds during outbreaks. Vaccination is also a key component of our programs. Where allowed under local legislation, CAHWs are trained to implement vaccination programs to prevent locally important diseases, such as Newcastle disease, and to develop necessary business skills for offering these services in their communities.
Through our CAHW training program, we ensure that livestock keepers in remote and underserved communities worldwide have access to skilled animal health workers and to proactive disease prevention. We focus on enabling CAHWs to use the right drugs for the right diseases, at the correct dosages, and for the appropriate durations. This approach not only helps safeguard existing drugs from AMR but also enhances animal welfare, secures the supply of animal source foods, and protects livelihoods dependent on livestock.