October 3, 2023 — YELLOWKNIFE, NWT – In the wake of an unprecedented wildfire season affecting communities in Canada's North that impacted tens of thousands of people and their pets, Veterinarians Without Borders/Vétérinaires Sans Frontières (VWB/VSF) and NWT SPCA partnered early on to mobilize rescue, relief, and recovery efforts. PetSmart Charities of Canada's Disaster Response fund has announced $95,000 in aid to assist impacted pets and the people who love them.

When the community of Behchokǫ was ordered to evacuate in late July, VWB/VSF and NWT SPCA sprang into action to find temporary housing for over 100 animals, provide pet food, and veterinary assessments and care as needed – including vaccinations. Later in August, when wildfires encroached on the City of Yellowknife and over 20,000 residents were ordered to leave, VWB/VSF and NWT SPCA continued their team effort and procured animal supplies and crates so that residents could safely evacuate with their pets. After receiving essential worker status, staff from VWB/VSF and NWT SPCA were able to stay behind and care for 150 animals – dogs, cats, fish, rabbits, and other small animals that were unable to leave.
During the month-long evacuation, VWB/VSF's Northern Veterinary Specialist, Dr. Michelle Tuma (DVM) was the only remaining veterinarian in Yellowknife and the entire territory of NWT. Dr. Tuma provided essential medical care to animals in the community and in the care of the NWT SPCA. She was able to triage urgent medical cases that arose, including two local dogs who got into an unfortunate situation with a porcupine. Dr. Tuma was able to respond, sedate the dogs -- that were clearly in pain from their porcupine encounter -- remove the quills and send them on their way.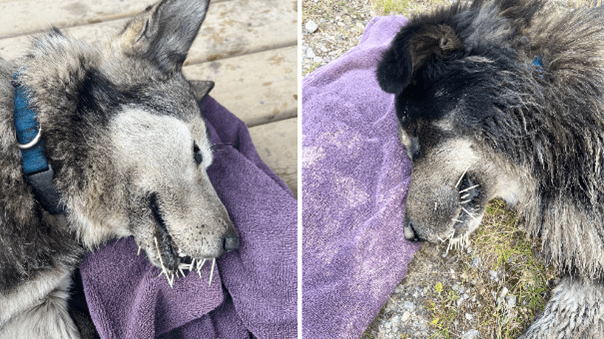 Dogs from Behchoko that were quilled by porcupines and required Dr. Tuma's care.
Disaster response grants made by PetSmart Charities of Canada promote people and pets staying together during crises, when they need each other most. When people suffer during natural disasters, their pets often suffer, too. As important members of the family, pets also have urgent needs for shelter, medical care, nutritious food, and social support.
"We're so grateful for our community and PetSmart Charities of Canada, which has stepped up over these past two months and shown unwavering support for the animals and people of Yellowknife and NWT," said Marieke van der Velden, VWB/VSF's northern Canada program manager. "It became clear, early on, that working closely with our Northern Animal Health Initiative partner, NWT SPCA, would have the biggest impact on safely evacuating animals and caring for those left behind. This is especially important as we now switch to recovery mode, helping animals get back to their communities," added van der Velden.
"When disasters strike, pets and people need each other even more," said Kate Atema, director of community grant initiatives at PetSmart Charities of Canada. "Unfortunately, unpredictable events sometimes leave pets in harm's way, but we're grateful for the first responders and partners who understand that these events impact pets, too. We're happy to support Veterinarians Without Borders/Vétérinaires Sans Frontières and NWT SPCA as they continue to help the communities impacted by the wildfires."
"These unprecedented wildfire disasters so close together this past Spring/Summer have been difficult on everyone," said Nicole Spencer, Executive Director of the NWT SPCA. "It has been both an emotional and financial challenge to many in the Northwest Territories, including our organization. The NWT SPCA is beyond grateful for the partnership and support shown by Veterinarians Without Borders/Vétérinaires Sans Frontières, PetSmart Charities of Canada, as well as the volunteers and local businesses who helped evacuate animals and provide much needed food for those who could not be evacuated. These grants will help the NWT SPCA recover from the financial damage that resulted from the wildfires and emergency evacuations," added Spencer.

About Veterinarians Without Borders/Vétérinaires Sans Frontières 
 
Using a One Health approach, Veterinarians Without Borders (VWB) works for, and with, communities in need to foster the health of animals, people and the environments that sustain us. VWB works in Africa and Asia to improve the living conditions of the most disadvantaged rural populations through veterinary and agricultural services, sustainable animal production, training, value chain development and sustainable natural resource management. Additionally, we support remote Northern Canadian communities to improve animal health through temporary spay and neuter clinics, reduce the spread of rabies, and work to create the conditions for long-term, community-led sustainable animal health services. VWB/VSF also responds to crises, worldwide, and is currently providing emergency support in Ukraine, Pakistan, South Sudan, and Turkey to address the growing needs of animals and communities. 
  
Learn more at vetswithoutborders.ca

About the Northern Animal Health Initiative

The NAHI program is focused on increasing access to animal health services in the Canadian North by providing services and resources to strengthen capacity in remote communities in Nunavut and the Northwest Territories. VWB/VSF develops partnerships with remote communities in the Canadian territories upon their invitation. Together, they work to identify needs and build a plan with community representatives and leadership to strengthen local capacity to address animal care needs year-round. This includes offering annual temporary veterinary clinics with a team of volunteers. VWB/VSF's goal is to build a sustainable framework that will create the conditions for lasting, community-driven animal health.

Learn more at vetswithoutborders.ca  

About NWT SPCA
NWT SPCA is a no-kill, non-profit, registered charity founded in 1988 in the capital City of Yellowknife, Northwest Territories. Our primary focus is the health and wellbeing of all domestic pets. Our staff, volunteers, northern businesses, and on-the-ground network of partners are dedicated and passionate in providing lifesaving Community Spay/Neuter and Animal Wellness Clinics for companion animals; providing pet food drives, adoptions and dog transfers, and providing education in pet care to help in reduce the number of stray and unwanted animals roaming our communities. These programs are improving the welfare of our Northern pets and the communities they live in.  NWT SPCA believes in taking a positive and collaborative approach to saving lives and helping everyone understand and appreciate the value of companion animals in modern society.

Learn more at www.nwtspca.com

About PetSmart Charities of Canada™ 
PetSmart Charities of Canada is committed to making the world a better place for pets and all who love them. Through its in-store adoption program in all PetSmart® stores across the country, PetSmart Charities of Canada helps thousands of pets connect with loving families each year. PetSmart Charities of Canada also provides grant funding to support organizations that advocate and care for the well-being of all pets and their families. Our grants and efforts connect pets with loving homes through adoption, improve access to affordable veterinary care and support families in times of crisis with access to food, shelter, and emergency relief. Each year, thousands of generous supporters help pets in need by donating to PetSmart Charities of Canada directly at PetSmartCharities.ca, while shopping at PetSmart.ca, and by using the PIN pads at checkout registers inside PetSmart stores. In turn, PetSmart Charities of Canada efficiently uses more than 90 cents of every dollar donated to fulfill its role as the leading funder of animal welfare in Canada, granting more than $25 million since its inception in 1999. Independent from PetSmart LLC, PetSmart Charities of Canada is a registered Canadian charity. To learn more visit www.PetSmartCharities.ca. 
Find PetSmart Canada & PetSmart Charities of Canada™ on: 
Facebook: www.Facebook.com/PetSmartCanada  
Instagram: www.instagram.com/PetSmartCanada  

Media Contact:
Laura Eley 
Communications Officer 
E: laura@vetswithoutborders.ca   
C: +1 343-633-0272, x 114                                                               

24-Hour PetSmart Charities Media Line:  623-587-2177

-30-