OTTAWA, ON, 2023, May 16, 2023 - Veterinarians Without Borders/Vétérinaires Sans Frontières Canada (VWB/VSF) is excited to announce the winners of its Animals and Ales Photo Contest, which wrapped up on May 16, 2023, at 7:00 p.m. ET. This "paw-dorable" online photo contest, (launched on World Veterinary Day), encouraged pet owners from across North America, (19+ in Canada and 21+ in the U.S.), to submit their favourite pet photos for a chance to be featured on the label of a limited-release beer at either Fixed Gear Brewing in Guelph, ON, or Luppolo Brewing in Vancouver, B.C. (one grand winner per brewery). Contest winners have been determined based on the number of votes they acquired.
Contest winners as follows:
Pluto from Montreal, QC earned 17,883 votes and will be featured on the label of Fixed Gear Brewing's Best Friends Session IPA. Congratulations to Pluto and Pluto's people!
Takhini from Whitehorse, YK earned 5,942 votes and will be featured on the label of Luppolo Brewing's Zest in Show. Congratulations to Takhini and Takhini's people!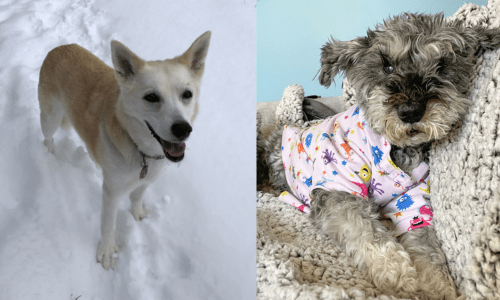 Takhini (left) and Pluto (right)

"We are so grateful to each of our entrants, their human families, and all those who voted for them," said Charmaine Brett, executive director of VWB/VSF. "We're also extending a huge thank you to Fixed Gear Brewing and Luppolo Brewing for partnering with us for their extra special brews. Thanks to their generosity, we've been able to fund life-saving programs for animals and communities in need, right here in Canada and across the world," said Brett. 

Along with the two winners, the second, third, and fourth runners-up at both Fixed Gear and Luppolo will each receive a custom set of coasters featuring the top four animals in their category. The second place winner at Fixed Gear is Boris (alpaca), the third place winner is Buster (dog), and the fourth place winner is Tallulah (dog). The second place winner at Luppolo Brewing is Jiro (cat), Chewbacca (dog), and Jasper (cat). There were also wild card winners, including Fred (cat), Peaches (ferret), Sprinkles and Jericho (cats), Osman (dog), Georgie Girl (dog), Hank (dog), Willow (cat), and Kip (dog). Huge congratulations to all entrants! Thank you for supporting animals in need.
Funds raised through VWB/VSF's Animals and Ales contest will go towards helping companion and farm animals, along with community members, right here in Canada and across the globe in 10 countries. Through VWB/VSF's teams of volunteers and partners, we offer otherwise inaccessible veterinary services, along with capacity-building agricultural training.
Contest winners and spokespeople from VWB/VSF,  Fixed Gear, and Luppolo are available for interviews upon request.
Media contact

Laura Eley
Communications Officer
E: laura@vetswithoutborders.ca  
C: +1 343-633-0272, x 114

About Veterinarians Without Borders/Vétérinaires Sans Frontières

Using a One Health approach, Veterinarians Without Borders (VWB) works for, and with, communities in need to foster the health of animals, people and the environments that sustain us. VWB works in Africa and Asia to improve the living conditions of the most disadvantaged rural populations through veterinary and agricultural services, sustainable animal production, training, value chain development and sustainable natural resource management. Additionally, we support remote Northern Canadian communities to improve animal health through temporary spay and neuter clinics, reduce the spread of rabies, and work to create the conditions for long-term, community-led sustainable animal health services. VWB/VSF also responds to crises, worldwide, and is currently providing emergency support in Ukraine, Pakistan, South Sudan, and Turkey to address the growing needs of animals and communities.
 
Learn more at vetswithoutborders.ca 

About Fixed Gear Brewing Co.

Fixed Gear Brewing Company is a fresh, small batch brewery located in the heart of the Guelph, Ontario's Junction neighbourhood.

Learn more at fixedgearbrewing.com

About Luppolo Brewing Co.

Luppolo Brewing Company is a west coast and Italian inspired craft brewery located in Vancouver's Yeast Van district. At Luppolo, we believe that experimentation is the key to developing unique and interesting beers. We are committed to using high quality ingredients, and when possible, fresh, local ingredients like seasonal fruit. Come experience Italian hospitality, sample our beers right from the source and taste some of our amazing pizza in our beautiful tasting room!

Learn more at luppolobrewing.ca

-30-