Edible Insect farming has the potential to offer a sustainable means of food production and constitutes as a sustainable livelihood activity due to the relatively low necessity for equipment, feed, time, labour, money, and skill required to raise insects. Edible insects contain high quality protein, vitamins, and amino acids for humans.

Veterinarians Without Borders/Vétérinaires Sans Frontières Canada and our local partner, BaseNet, recently implemented a 10-month research project titled, "Edible insect farming for improved nutrition and incomes in South Sudan". The project was generously funded by Global Affairs Canada's Fund for Innovation and Transformation (FIT) Program. It was developed on the basis that edible insect farming has the potential to mitigate the affects of malnutrition and gender-related challenges, and that insect farming in a controlled environment can address current challenges in insect collection practices, which consequentially help to reduce gender-based violence and harassment (GBVH) that is associated with harvesting edible insects from the wild. The project was also designed to provide a source of disposable income to meet family expenses, strengthening both food and nutrition security. The research project introduced farming of edible insects, (e.g. crickets, grasshoppers, and flying termites), among communities in Eastern Equatoria and Jonglei states. It targeted 200 beneficiaries with majority being women, (about 80%). 

Susan Ilele Massimo was one of the project beneficiaries. She is a 45-year-old married mother of eight children, including five girls and three boys. Susan resides in Enyif village, Moti Boma of Ifwotu Payam in Torit County of Eastern Equatoria State. She shared her experience as a participant in this research project: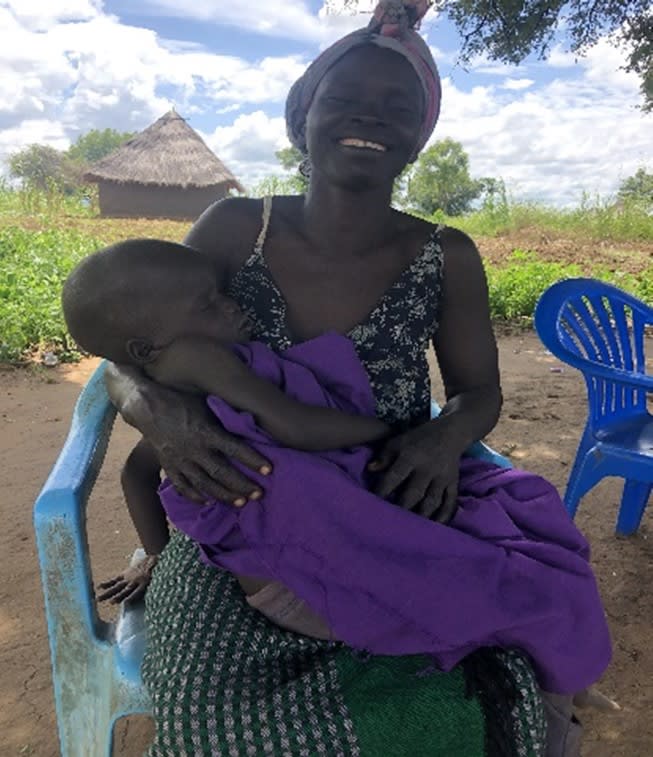 Susan Ilele Massimo during the interview at her home in Enyif Village. (c) Kori Aliardo
"When the farming edible insects project was introduced to our village, I willingly joined the group to get training and skills in farming insects. Traditionally, we catch flying termites during the beginning of the rainy season, which is tedious work because it is often done at night. We normally monitor which ant hill is ready to explode with the flying termites, then assemble bundles of dry grass for lighting, and when the flying termites come out from the anthill, we collect them mixed with soil and other dirt. This usually takes two hours. After harvesting, we clean the insects from the dirt; the final harvest was usually small (two buckets). We cook some at home and sell some for income. In the local market, a mug-full of dried flying termites fetches about 600 SSP (approximately $1 USD). Income from the sale of insects wasn't great, as we could sell maximum of 20 mugs, earning us about 8,000SSP ($20 USD per season). My husband, Massimo, is a civil servant with the County Administration. His salary never comes regularly, is very little, and cannot support the family needs*. Because of this my elder children were not able to get their basic education. My main source of livelihood and income is from charcoal and firewood sales, and occasionally, I supplement with cash from brewing alcohol.  A bag of charcoal in the Torit market costs 4,500 SSP (approximately $7 USD), and a bundle of firewood goes for 1,000 SSP (approximately $1.50 USD). On a lucky day, when our family sells the charcoal, the revenue is divided into three; one-third is saved in a box and the other portions are used for buying maize flour for food, and the balance is used to purchase ingredients for brewing alcohol. Livelihoods options are few for the family."
The project provided innovative equipment to all beneficiaries for harvesting flying termites.  This was a simple technology, which uses an assemblage of a light, funnel, and bucket for harvesting flying termites. Susan has used the equipment a few times, saying, "this equipment is a great relief. My harvesting capacity has greatly increased about three-fold from our traditional method. My income from the first harvest was 57,500 SSP (approximately $100.72 USD) and about 70,000 SSP (approximately $132.63 USD) from the second harvest. This is unusual for us here in this village; I think we shall do better next season". Additionally, the light on the harvesting equipment can be used by the family for dual purpose; during off-harvesting season, Susan and her family can use the light for household lighting and she can also use the farming kit's plastic bucket for keeping clean drinking water for the household.

Susan explained that they will harvest more flying termites next season, noting she will surely make good money, which will help alleviate their household's fees for food, medicine, and the children's school. She concluded, "this will reduce my husband's burden of cutting trees for charcoal, which is a tedious job. I am so happy for the support I received from this project. I pray, next time, they will add more women to benefit from this project."

The Fund for Innovation and Transformation has significantly positively impacted the lives and livelihoods of this family, even though it was a short testing period.

*Salaries of teachers in South Sudan have been eroded due to inflation and currently a teacher earns $5/month.
Interested in supporting VWB/VSF's projects in South Sudan? Learn how.