This blog was contributed by Johnson Kariuki, a VWB/VSF VETS volunteer and Monitoring and Evaluation Specialist, and Nafhtari Wanjiku, a VWB/VSF VETS volunteer and Animal Nutrition Specialist.

Africa has been described as the last frontier in the fight against extreme poverty, with more than half of the world's extreme poor living in sub-Saharan Africa. Being the single largest agriculture sub-sector, dairy farming is an integral part of the economy, and makes up around 14 per cent of the region's total agricultural revenue. Agriculture is especially indispensable in rural areas where more than 70 per cent of the population primarily relies on small scale farming for their livelihoods. Unfortunately, due to various challenges, those that dedicate their lives to milk production in Kenya are not guaranteed a livable income. Some of the challenges faced include low quality and quantity of fodder, expensive farm inputs, poor cow comfort, and environmental degradation. The fight to enhance productivity is further facing a complex challenge with adverse effects of climate change becoming more regular and pronounced.
 
Veterinarians Without Border's (VWB) work in Kenya is in full line with Sustainable Development Goals (SDGs), and seeks to actively contribute towards eradication of poverty, protection of the environment, enhancing gender equality, and improving dignity of life for all. To achieve this, VWB works directly with small-scale dairy farmers, as well as supports local partners in building capacity of the extension team to deliver quality services to target farmers.
James Kamau, a father of three, first came into contact with VWB volunteers in 2014. At the time, he had two mature dairy cows that were producing an average of 10 litres each/per day, at their peak. Kamau benefited from various trainings held at the community level, some of which covered fodder production, animal nutrition, cow comfort, and environmental degradation. With support from the volunteers and the extension team affiliated to Wakulima Dairy, Kamau introduced various changes to his farm targeted at generally improving animal husbandry.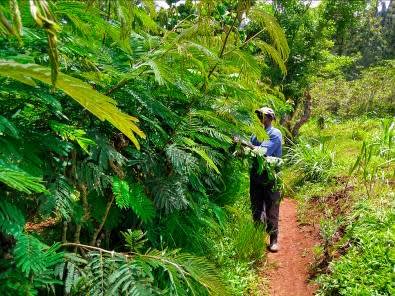 James harvesting calliandra on his farm.
Some of the changes adopted by Kamau included simple transformations of the cow shed to improve cow comfort, planting of high protein fodder, production of maize for silage, and improvement on manure management. One of the first tangible things that Kamau noted from these changes was that fodder production increased several times. Having appreciated the importance of animal nutrition, he scaled up the amount of high protein fodder on his farm. As at the time of the visit, Kamau had a hedge of calliandra and mulberry that cumulatively stretched a length of approximately 320 feet. He also had desmodium and sweet potatoes, which were inter-cropped with napier grass. As a result of incorporating these crops into fodder, and what Kamau calls "a combination of changes", the well-being of his farm and animals improved, which in-turn increased productivity with average peak production per cow rising to 23 litres/per day.
"I used to always have challenges with fodder," said Kamau, adding: "After making the changes, my fodder production increased, and I started storing some as silage. I began with a pit silo and then upgraded to wooden silos. Because we have two harvest seasons, I normally make silage twice a year and each batch will last me four to five months. My farm could barely support two cows, but now I have four mature animals and a calf".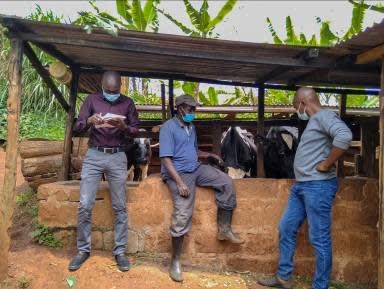 James having a discussion with Johnson and Nafhtari during a farm visit.
The story of Kamau is evidence that, with a few strategic changes, small-scale farmers can boost productivity and profitability without incurring huge costs. With a change in fodder management, small-scale farmers can produce enough quality fodder, which will make it logical to adopt silage making and mitigate the problem of seasonality of fodder, ensuring that animals are consistently well fed. Neighbours are eagerly learning from Kamau and, with the right support, this can lead to systemic change. With improved profitability, farmers will aim higher and reinvest in their farms.
Although Kamau is still learning, he shared: "It has been encouraging. I earn more money now from milk and I don't have to spend so much sourcing for fodder from elsewhere, which means we have more to spend on our family needs. Together, with my wife, we hope to keep growing and improving our farm. Our target is to hit a peak production of 35 litres/per day. We also hope that one day, we can install a biogas as it would help reduce the overreliance on firewood, which is our main source of fuel".
 
One area that Kamau hopes to improve on is record keeping. While he does maintain records on various critical elements, including breeding and deworming, he is hoping to improve his book-keeping skills and practices, which would help him track the profitability of his farm. This is an area that the VETS Program can purpose to support on going forward.
Interested in volunteering with our VETS program? There are many opportunities to make a difference abroad. Learn more about our current volunteer openings or reach out to volunteers@vetswithoutborders.ca for more information.

Our VETS program wouldn't be possible without generous funding from Global Affairs Canada.