In a world full of challenges, it's often the smallest and most remote places that remind us of the immense power of coming together as a global community — particularly in the face of climate change. With the onset of Typhoon Bolaven towards the Mariana Islands, including the tiny island of Saipan nestled near Guam, this global unity has become even more important.
Recently, Typhoon Bolaven barreled towards the small island of approximately 43,000 people with winds of 120 mph. Sadly, humans weren't the only living beings in danger of being impacted by the storms. Saipan played a pivotal role during World War II, and soldiers stationed there formed special bonds with their canine companions, setting the stage for a unique relationship between humans and animals on this island. Over the years, the dog population on Saipan has soared, reaching a staggering statistic: one dog for every two people.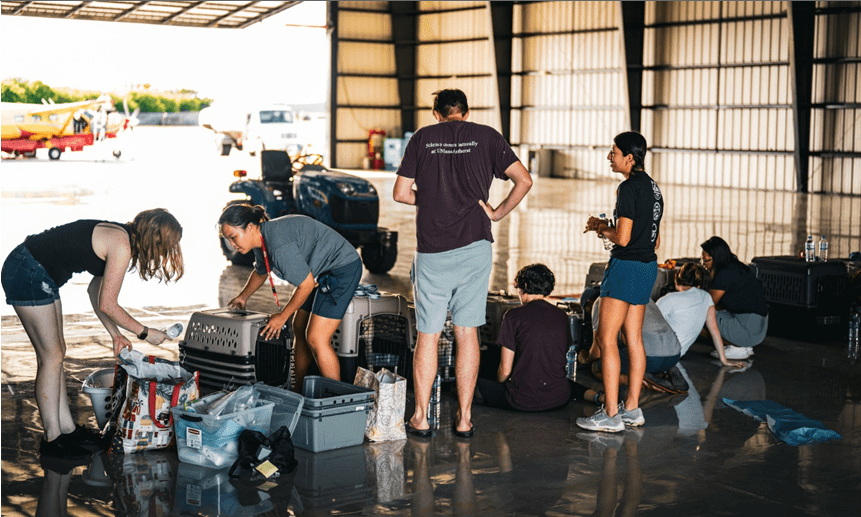 Team members at the Saipan Humane Society prepare crates.
Because of this unique history, Saipan boasts its very own Humane Society, a remarkable organization comprised of dedicated staff and volunteers who tirelessly work to better the lives of animals in their community. This is no small feat on an island with such a small human population. 

In light of the storm, the Humane Society sent out an urgent call for assistance as they worked tirelessly to safeguard the vulnerable animal population from the impending storm. Limited resources made this very challenging.
A Saipan Humane Society worker with a local dog.
Donations made towards emergency relief in Saipan helped to provide tangible, lifesaving aid, including:
Procuring Crates: These crates are essential for safely housing animals during the storm, offering them a chance at survival.
Distributing Leashes, Collars, and ID Tags: These items are vital for keeping pets secure during the chaos of the storm and its aftermath.
Providing Essential Pet Food, Water Bowls, and Medical Supplies: Ensuring the health and well-being of animals.
These are not just statistics; they are living beings with stories, each deserving of a chance at life, safety, and security. The images shared here depict just a few of the dogs that have recently been under the care of the Saipan Humane Society.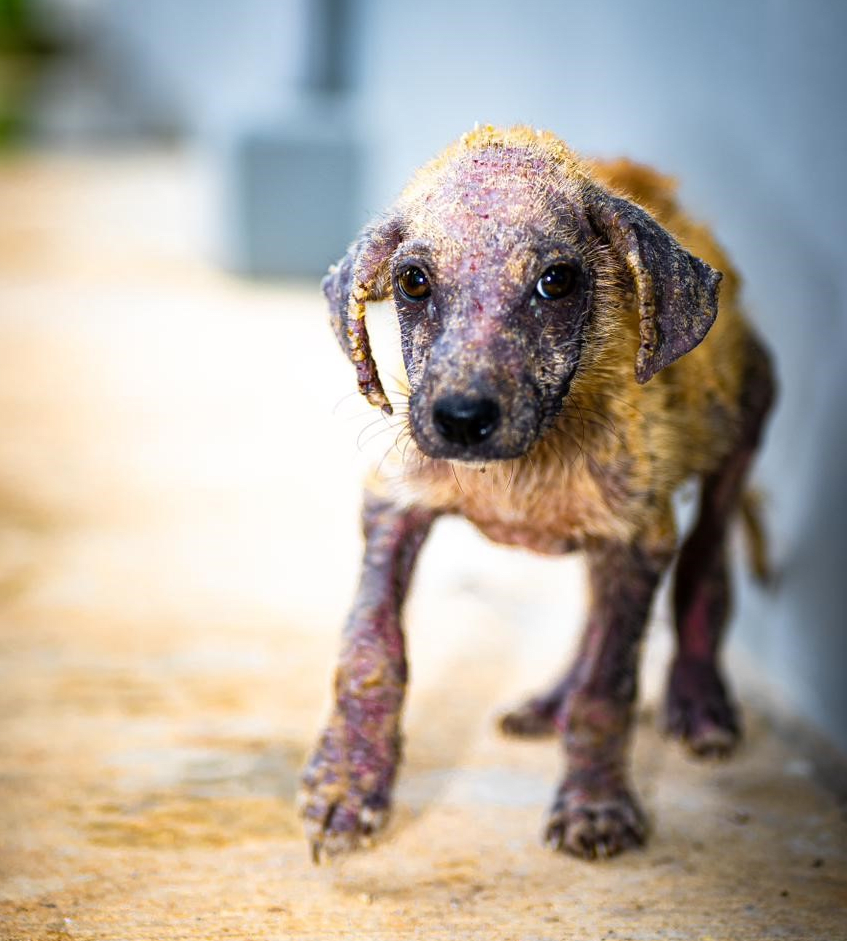 A puppy in need of veterinary care in Saipan.
Climate change has led to rising sea surface temperatures and altered atmospheric conditions, creating the ideal breeding grounds for more powerful and destructive typhoons. As our climate continues to change, extreme weather events will increase worldwide, which means there will also be an increased need for emergency response efforts. VWB/VSF's Emergency Rescue and Relief Fund provides immediate support and care to on-the-ground organizations that are supporting animals in need during crises. 
In a world facing the growing challenges of climate change, the typhoon season serves as a stark reminder of the importance of supporting communities like Saipan that are on the front lines. Let's stand together and extend our hands to those who need it most, ensuring that hope, compassion, and tangible aid prevail.

Learn more about supporting VWB/VSF'S Emergency Rescue and Relief Fund.